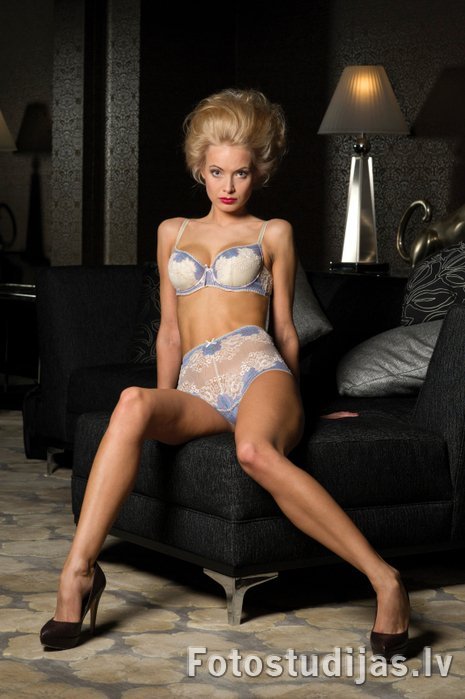 A lingerie photoshoot for a catalogue and advertising is very important for your brand. With the help of photos of linen, you present yourself and your products. Photos make you stand out and attract the interest of your audience. It is imperative that you stand out from the competition and convince potential buyers to buy exactly your underwear, which they saw in high-quality, professional photographs in the catalogue. We recommend doing a photoshoot of lingerie for the catalogue in our photo studio, which has all the necessary equipment and scenery, and there is also the opportunity to go to a photoshoot on the road.
Photos of underwear on the model
Our professional photographer will make sure that your lingerie photos on the model are shown from the best side, through the right light, with the right angle and composition. The photographer will recommend better poses. You can use photos of underwear: on your website, in catalogues, post on the Internet or social networks, produce marketing booklets, posters and other promotional materials.
Lingerie photography price
The price of a lingerie photo hoot can vary from 75-300 euros per hour and depends on:
Type of photoshoot (with/without scenery, interior)
Total amount of work (number of sets and number of photos for each set)
Location of the photoshoot (outdoor or studio photo session)
Duration of the photoshoot (number of hours)
Necessary equipment for a photo session
Required details
Number of processed photos
and other factors
*More about prices: https://fotostudijas.lv/fotosesija-fotosesijas-cenas/
Taking photos of laundry
Within a week after the photoshoot, you will receive all photos of the underwear with the main processing, in electronic form. 1 hour photo session, about 100 photos. The number of photos in linen for additional processing (retouching) depends on the duration of the photoshoot and the price.
Preparing for a photoshoot of lingerie for advertising
To prepare for a lingerie photoshoot, we advise you to think about the following questions in advance:
Where will the lingerie photoshoot take place? A lingerie photoshoot can be held in a photo studio or on the road, in any place of your choice.
Do you want a lingerie photoshoot on a live model or a mannequin? When photographing with a mannequin, you can then process the photo so that it remains invisible, only your underwear will be visible in the photo.
What backgrounds, decorations, and design elements do you want? If the photoshoot takes place in our photo studio, then we have different color backgrounds and decorations on site. If the photoshoot will take place on the road, then before the photoshoot of linen, we recommend that you contact us so that, if necessary, we can prepare all the equipment.
Selection of models for a lingerie photoshoot. A lingerie photoshoot can be realized without models. You can also hire us to select models for a lingerie photoshoot, just tell us your preferences and we will select the best candidates.
How many sets need to be photographed? and how many photos are needed for one kit
Feel free to send your ideas and samples to make it easier for us to understand your desires!
Organization of a lingerie photo session
You need to pay a lot of attention to the photoshoot of underwear and other important details, the more professional attention is paid, the better the result will be. For your convenience, we can fully organize a lingerie photoshoot, and you do not have to spend your time organizing a lingerie photoshoot. We offer:
Ideas for photo shoots according to your wishes
Casting models (according to your preferences)
Selection of a place for providing a photoshoot of clothes
Services of a stylist, hairdresser, and make-up specialist
Photo sessions, video filming, processing, and editing.