Equipment for the object photography
For each photograph is important to have professional and qualitative equipment. In the object photography is important how display different objects and the angle from which the object is photographed. In the same way it is important how clearly their details and texture are visible.
Nowadays, object photography for advertising is very important that's why is necessary having high quality equipment for the object photography – object can be highlighted, displayed and photographed from all sides. Often photographers doesn't have own professional photo studio or the necessary equipment and one of the reason is that equipment is very expensive. We offer professional and valuable equipment for the object photography and for everyone photographer it is available.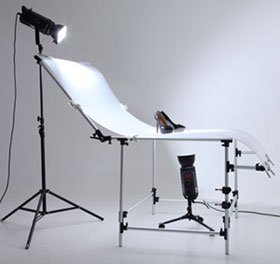 Table of the objects is indispensable in the process of the object photography – object is photographed in the best light, without shadow, from the best angle and with the best sharpness, thereby highlighting product's benefits.  Professionals know and understand attrib
utes of this table. On the table of the objects you can get photo of the product appropriate advertising or web directory needs. Regardles
s of what you would make photos (toys, car models, jewelry, coins or take a quick shot for the auction) table of the objects always will help you.
The back of the table can be regulate thereby you can choose degrees ranging from 90 till 180. Exactly concave forms of the background are the more important detail of the objects table. It provides a smooth transition where horizon merges with the vertical and it creates invisible edges. Of course, different lights support is also very important – placing them to the suitable tripods all around the table, subject will illuminated from all sides.
Sizes of the table of the objects: 100 x 200 cm, total height 165 cm, weight 15, 5 kg; 1 piece.
Price: 1 EUR/h.
Object photography prices
Object's and product's price depends on their amount, location of photo session, object and background characteristics, photo editing and on the other factors. Photoshoot of transparent and reflective objects is more expensive.
More than 100 objects – 4.00 EUR/piece.
From 51 to 100 objects – 5.00 EUR/piece.     
From 11 to 50 objects –  6.00 EUR/piece.
From 1 to 10 objects –  7.00 EUR/piece.
Object composition photo from 15 EUR/piece.  
Composition of objects and photography
| | |
| --- | --- |
| Number of items | Price |
| 1 | 75 – 100€ |
| 2 – 5 | 200€ |
| 6 – 10 | 250€ |
| 11 – 20 | 450€ |
Object composition and photography include
Organization of a photo session
Composition
Supply of materials and decor
Photo session
Basic image processing
* Materials are not included in the price
Economic composition and photography of subjects
Client-organized photo session in the studio (client provides accessories, decor, etc., as well as creates compositions himself) – 60 € / 1h (including installation of light)
A client-organized photo session includes
Studio rent
All necessary equipment and table of items
Photo session
Basic image processing (framing, color and light correction)
Minimal price of object photo shoot – 40 EUR.
Alphashot 360 Portable Photo Studio is the perfect choice for photographing items anywhere. It is a compact portable studio, which allows you to create professional 360 degree photos. You can shoot anything up to 3kg, such as accessories, shoes, various items, artwork, small electrical appliances, etc.
Size of items not exceeding 30x30x25 cm and weight of 3 kg; available in 1 pcs.
Price: 15 EUR / hour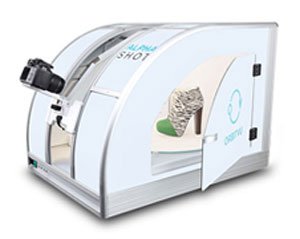 This portable photo studio is fully integrated with 360 degree technology, specially optimized
to provide e-commerce with smooth operation on any computer, mobile device, social media. The features of this portable studio will include features such as:
M-view – a mobile 360 degree view technology that ensures that items can be seen everywhere – on any device or web platform.
Deep zoom – a technology that allows your customers to zoom in to the highest resolution without letting the website work slower. Details are only loaded when needed. You can show the client as much as you want – no more, no less.
Multi touch – With multi touch on mobile devices, it makes items even easier to see. Orbitvu's unique technology works not only for iPad / iPhone, but also for Androids-based devices.
Content distribution network – Global distribution of information ensures that your product's images are downloaded instantly or available to your customer anywhere in the world.
Link generator – shortens the path between photo and sales – with one click you can create a link that will publish your 360 degree presentation at any online store or auction site.
QR generator – ensures that the subject is visible from all angles when reaching mobile devices.