Equipment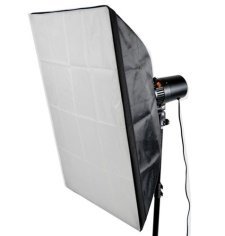 Softboxes – A softbox diffuses the light into a pleasing soft, even light. When used properly, it reduces harsh shadows. The closer softbox is to the model or subject, the softer the light appears, emulating window light.
Sizes:
60 x 80 cm      1 piece
80 x 100 cm    1 piece
100 x 100 cm   2 pieces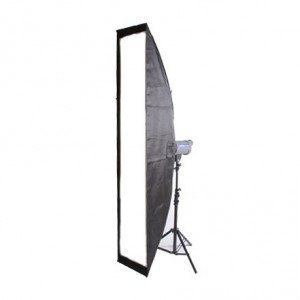 Strip-box – a vertical rectangular nozzle which is ideal for evenly illumination of tall structures ( for example people at full length).
Sizes:
160 x 33 cm, available: 2 pieces
140 x 35 cm (with cells), available: 2 pieces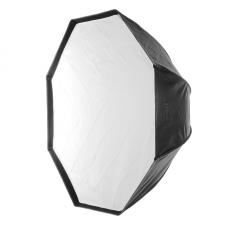 Octabox – thanks to this shape, people photographed with an octabox have a circular sparkle in their eyes. This sparkle can somewhat replace the sparkle they'd get from the sun. A circular reflection feels much more natural than a square one. The iris and the pupil are circular, and that makes a circle very appropriate for the eyes, which are a critical area for every portrait.You can even use an octabox as a photo's main lighting source.
Size: 100 cm   1 piece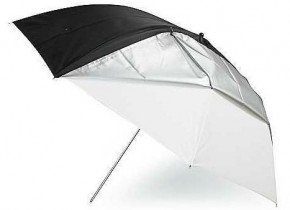 Lighting umbrellas are one of the most essential light modifiers that flash photographers use to shape light. Umbrellas soften, broaden, and diminish the light output of any flash light source.
Sizes:
50 cm   1 piece
70 cm   1 piece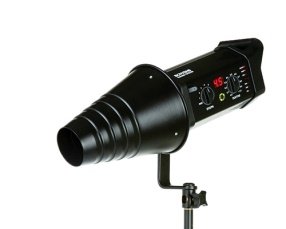 Conical snoot – especially suitable as highlight for portrait and beauty photography, creates punctual light and a narrow cone of light
Available: 1 piece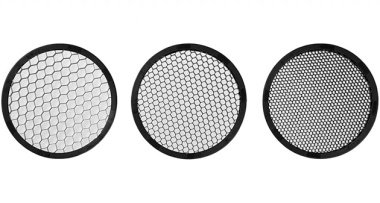 Cell – with this nozzle can get narrow, sharp but also soft light, thanks to parallel rays.
Available: 2 pieces (together with conical snoot)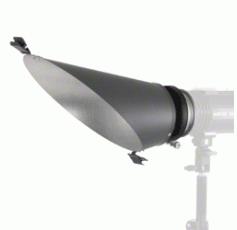 Walimex pro background reflector (nozzle) – particularly suitable for passport and portrait photography. The clamping fixtures enable the application of colour filter foils for the colourisation of backgrounds. The white colouring on the inside of the reflector creates an even, soft background light. The truncated shape of the background reflector enables an even illumination of the background and protects your motif from annoying light reflections.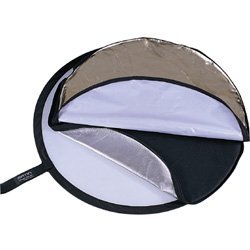 Foldable reflector – improvised or specialised reflective surface used to redirect light towards a given subject or scene. five different covers:three reflection surfaces for brightening: white-neutral, silver-cold, gold-warm, black surface for shadowing.
Size: 100 cm   1 piece (5 in 1)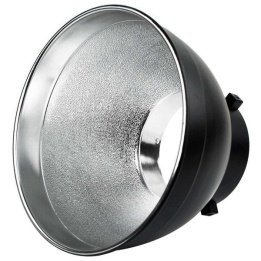 Reflector – for any situation that requires bright, direct illumination of subjects over great distances with high intensity.
Available: 15 cm (diameter)   2 pieces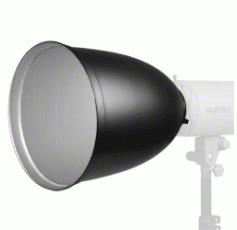 Walimex pro XL Tele Reflector – very high light output – smooth transition ont the edge of the light beam.Ideal for product and fashion photography or shootings from a big distance.
Available: 18 cm (diameter) 1 piece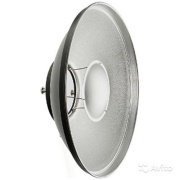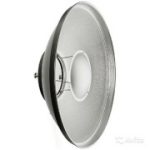 "Beauty dish" – simply a shallow parabolic disk that attaches to a light source. There is a plate covering the flash head – this causes the light to reflect back into and out to the sides of the main dish. Most of the light is aimed forward at the model because of the size and curvature of the dish.
Sizes:
45 cm (without deflectors)   1 piece
50 cm   1 piece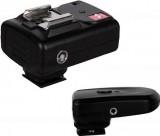 Triggers – these will remotely trigger the flash and studio lights without needing to connect it to your camera with a cable of any sort. This is very convenient as it makes it possible to control flashes which are not actually on the camera.
Available:
Flash trigger    4 pieces
Infrared trigger    4 pieces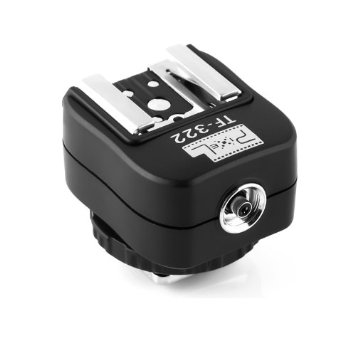 Pixel Hot shoe adapter for Sony – adds a PC sync connection to your camera, allowing you to connect to a studio flash using the PC connection. In addition, the adapter also features a hot shoe on top, which allows you to keep a flash mounted on the camera while simultaneously connecting the camera to a studio light via a PC sync cord. Or, use it to provide a PC connection to a flash that doesn't have a built-in one, when positioned off-camera.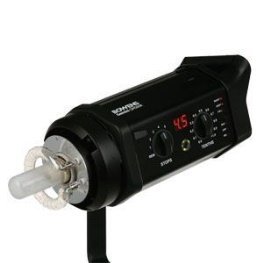 Monoblock – the most common type of studio lighting, the construction with the lamp and for the strengthening of the bayonet tip.
Aivailable: 10 pieces – Bowens 500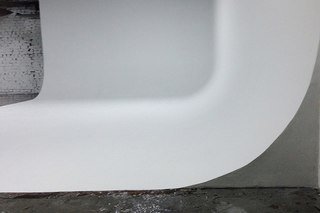 "Infinity wall"or"Cyclorama wall" – a curved wall used as a background of a stage set to suggest unlimited space. In a cyc studio, all corners are seamless.
Sizes:
height 3.10 m
width 4.50 m
lenght 3.8 m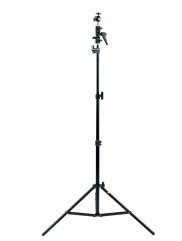 Stands Bowens – for monoblock (lamps) strengthening
Available: 10 pieces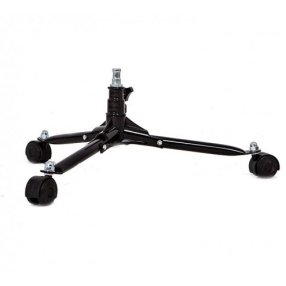 Stand for backround , on wheels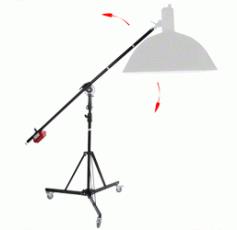 Wheeled Boom Stand with counterweight – solution for setting highlights or generally for illumination from above. It adds another dimension to the margin of illumination of your studio flashguns.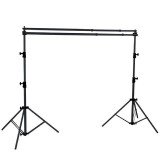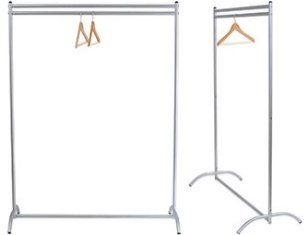 Clothes rack and hangers for clothes
Available:   9 pieces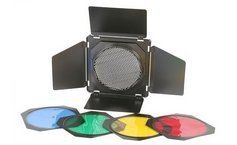 Barn door, honeycomb and color filter set – a 4-leaf fully rotating barn door lets you control the light direction and spread. With this barn door, you can easily shade specific objects, assign areas to be illuminated or create many other effects. The honeycomb grid reduces light dispersion and thus creates a more directional, shielded light onto your subject. It is ideal for hair lighting, portrait lighting. Also provided are color filters (blue, red and yellow) with an easy to use "slide on" design.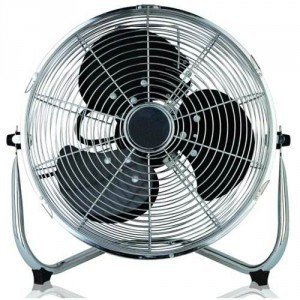 Ventilators (diameter 40 cm)
Available: 3 pieces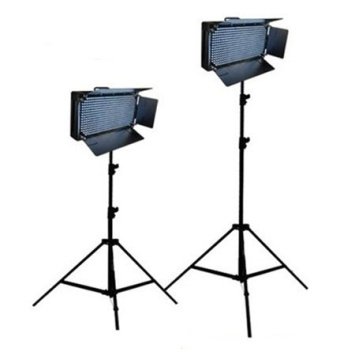 Video lights
Available: 5 piece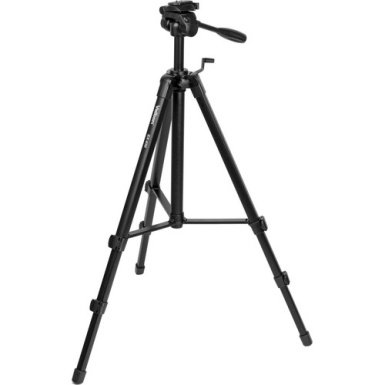 Stands for camera:
Available:
Velbon EX-360    1 piece
Sirui T-005KX    1 piece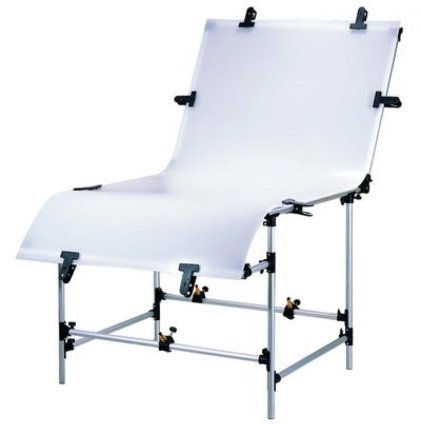 Linkstar Photo Table B-1020 – the shooting table is ideal for shadow-free pictures because there is enough space at the bottom for placing a continuous lamp or flash unit. The back of the table can be adjusted so you can choose an angle of between 90 up to 180 degrees. The rounding in the worktop to the back ensures that there is no visible transition between surface and background.
Size: 100 x 200cm, the total height of the table 165 cm, weight 15.5 kg
Available: 1 piece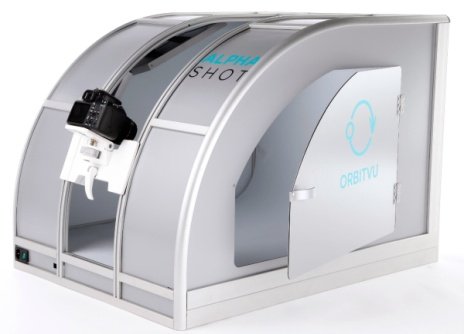 ALPHASHOT 360 – all-in-one compact portable photographic studio to create professional packshots and 360 degree product photography of objects up 30x30x25 cm and 3 kg weight.
Available: 1 piece