Christmas is the time of miracles that all people are preparing for – there are lights in every window, festive decorations appear in shop windows, gingerbread and similar Christmas delicacies are in store, snowflakes are dancing in the air, joy and bright hopes in the heart. The Christmas photo session is a great opportunity to capture the wonderful pre-holiday feelings of loved ones or individuals.
Present for Christmas
Christmas photo shoot is a great present for Christmas for your family and relatives – you will get professional photos taken in Christmas mood and you will spend time together that has a great value in this time. You can also pamper yourself – sign up for an individual photo session, forget about your daily routine, and save those memories in a lifetime of quality photos.
We have gift cards that are a great and compact gift for Christmas – you can present it in person or send it electronically. The gift card can also be purchased online >>>
You will be able to transfer your photos to your loved ones, put them in a frame, in a photo album, on social networks, and use them to make greeting cards.
Such a gift on Christmas will appeal to everyone – small children and adults, and even after several years will remind you of a great time and one-off feelings.
Christmas photo shoot procedure
The Christmas photo session is a great way to perpetuate these wonderful holidays. Give yourself and your loved ones a beautiful holiday sensation and capture the time of this miraculous family, children, friends, romantic or individual Christmas photo shoot.
Our photographic studio is bright, warm and cozy, while festive decorations will help create the desired atmosphere that will be felt even when you look at pictures from a family photo album. Photographs will be made by a professional photographer as well as high quality study equipment, guaranteeing an excellent end result.
Christmas photo shoot prices
Christmas photo shoot with decorations 150 EUR – 60 min.
Christmas photo shoot with decorations 90 EUR – 30 min.
Outside photo shoot first hour 150 EUR, each next 90 EUR
Classic photo shoot (without decorations up to 5 people) 90 EUR – 60 min.
Mini photo shoot (without decorations up to 5 people) 60 EUR – 30 min.
Receiving photos
During the week after the photo session, you will receive all the photos with basic processing, in electronic form. 1 hour photo session, about 100 photos. The number of photos with additional processing (rare) depends on the duration and price of the photo session.
How to get ready for Christmas photo shoot
To make the photos as good as possible, we will give you some suggestions on how to prepare for the Christmas photo session and answer the most frequently asked questions.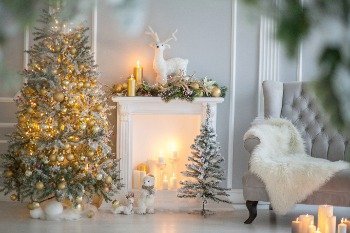 For a photo session, please come with well-groomed hair and nails, because the memories should be kept in the most beautiful and the best look.
We recommend that you use the services of a professional make-up artist (this can also be done with our pre-ordering service).
A lot of ideas for a Christmas photo session you can get online.
It is necessary to feel positive about the process and relax, even after the photo session, when you look at the pictures, it would be a pleasure.
The Photoshop is doing miracles nowadays, but it should take care of the cleanliness of the shoes.
What to wear?
For creative photos, think of the same set of clothes, styles and colors for all Christmas photo shooters.
If a photo session is taking place in the studio, it is imperative to take the shoe with you!
Find different outfits and accessories that look best and match them to the photo session environment.
What should we bring?
Various attributes that would enhance the idea of a photo session (themed hats, sweaters with deer, plaid, Christmas gloves, identical jugs, Christmas candies or others).
Several "Christmas fruits" – mandarins, oranges.
If young children are also involved in the photo session, be aware that they get tired faster, so take your food, toys and diapers with you to make a break if needed.
It is a very good idea to take a warm thermos with you – it will not only warm you, but will also be used as a decoration.
Other important tips
If you suddenly experience any changes and you are unable to arrive on time, be sure to let us know.
Improvise and don't be afraid, as it often takes the best photos and true emotions.
Smile, because smile turns both people and photos.