Gift cards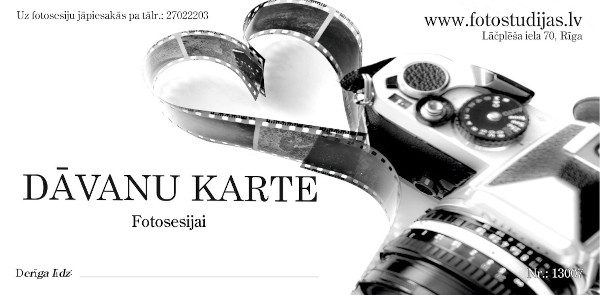 Professional photo shoot is every girl's dream. However, a good portfolio can be useful to many. It's always good if you have beautiful and qualitative pictures. Professional photo shoot is a great way to have a good time, to capture important moment of life, to have fun with friends, with your loved one, and as a result get quality and beautiful pictures.
Gift card is always a great versatile and also compact gift. We offer the opportunity to acquire a gift card for a photo shoot.
Gift card for a photo shoot is the best gift for surprise your loved ones, friends or colleagues. Gift card for everyone – women, men, sweethearts, children, colleagues, family or friends. It is a perfect gift for different occasions – September 1, March 8, Valentines's Day, Christmas, birthdays, wedding anniversary or any other special day. This is not just an original gift, but also an amazing adventure series and long memory in the form of wonderful pictures.
TERMS OF PURCHASE AND USE
Gift card expiry date – 6 months.
Gift card with makeup and hairstyle, the price includes styling for one person.
Photo session for group of 5 persons or less.
Please note that  photo shoot costs twice more expensive with decorations.
We can also offer gift cards of other value.
We offer the ability to create a gift card with a personal design. You can decide whether to specify the cost on gift card. Together we can create a unique design for your gift.
Treat your loved people by a real holiday! Choose one of the offered gift cards for the photo shoot, and your gift will be remembered forever!
Payment process
Paypal accepts credit card payments and is the biggest online payment system
To checkout with Paypal an account is NOT required!
Just fill out the required fields and you are good to go!
PayPal does not disclose your credit card information to the seller
PayPal has 100% protection against unauthorized transactions.
PayPal monitors all transactions 24 / 7.
Paypl works worldwide
Delivery process
After successfull payment process your giftcard in .pdf will be emailed to you in short time!
Giftcard with special design get delivered by mail (delivery – 1.50 EUR) or you may pick it up in fotostudio for free.