To make people buy some food it has to look delicious therefore in photographing foodstuff important things are lighting, shades and reflections. In the composition the needed product will be in dominant place, the most suitable angles will be found so all drawbacks are hidden and all virtues are highlighted.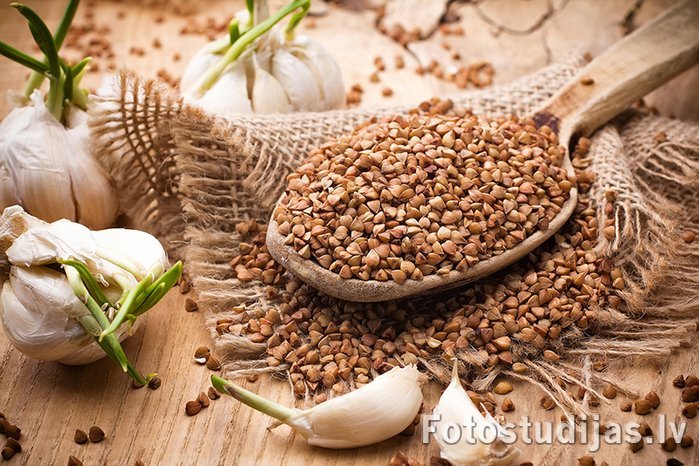 Food photography is a specialization of commercial photography that aims to take attractive photos of food for advertisements, menus or cookbooks. Professional food photography is a collaborative effort, usually involving an art director, a photographer, a food stylist, a prop stylist and their assistants.
Trends in food photography
Trends in food photography change from time to time. For example, for a long time food photographers composed and shot the food from eater's perspective: laid out on a table setting and shot from an overhead perspective. Therefore, stylists arranged the food flat on the plate, clearly separated from each other, so that each piece would be clearly visible for the viewer.
Later romantic lighting and shallower angles become popular. Now the dominant trend in Western commercial food photography is to present food as simple as it naturally is, although, editing the photos afterwards.
Food stylist
The role of the food stylist is to make the food look attractive in the finished photograph. The time and effort a stylist takes to carefully and artfully arrange the food, is the cause of differences between the way the stylist presents food, and the way a home cook or chef may present food. Visual know how is also a requirement, as is the knowledge of how to translate the perception of taste, aroma and appeal that one gets from an actual dish, to a two-dimensional photograph.
Photo shoot
The photo shoot can take place in both studio and in natural environment, under natural light. The light, background and setting is carefully prepared so as to present the food in an as attractive way as possible without distracting from it. The color and texture of the background is selected so as to effectively complement that of the food and to assist with its lighting.
Price of product photo shoot
The cost of the product photoshoot depends on product quantity, shooting location, object and background characteristics, photo editing and other factors.
More than 100 products – 2.00 EUR/piece.
From 51 to 100 products – 3.00 EUR/piece.
From 11 to 50 products – 4.00 EUR/piece.
From 1 to 10 products – 5.00 EUR/piece.
Product composition photo from 11 EUR/piece.
Minimal price of product photo shoot – 60 EUR.