Bachelorette party is a positive, funny and emotionally rich event that must be memorable not only in memories, but also in photos. Bachelorette party photo shoot offers the ability to keep memories in a tangible way. Lovely event among the friends or crazy party until the morning?! It does not matter, we will take care of keeping this wonderful day in memories forever, creating a unique, memorable bachelorette party photo shoot!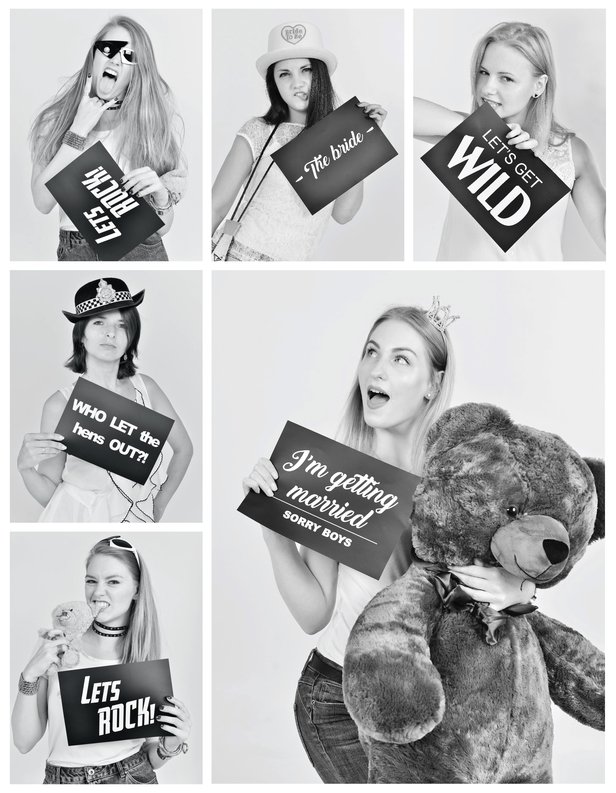 Definitely your friends will take care that it is unforgettable and crazy. Might be that it will be so fantastic that all would not be kept in mind. Today there are no borders for fantasy and everyone wants to make the last party before committing to marriage special so we will ensure that this spectacular day will be memorialized forever. Spend time with your loved ones, make fun memories, which we will help to keep in the form of high-quality photos!
Bachelorette party
A hen party is a party held for a woman who is about to get married. The bachelorette party is modeled after the bachelor party, which is historically the bridegroom's dinner with his friends shortly before his wedding.
Types of hen parties
Despite its reputation as "a sodden farewell to bachelor days" or "an evening of debauchery," a bachelorette's party is usually simply a party, given in honor of the bride-to-be, in the style that is common to that social circle. Therefore, bachelorette party can be as 'wild' as the bachelorette and her friends wish, and there are no strict rules of how it should be celebrated.
Keep memories
It is also very common to take pictures of the party to keep them as a memory of your amazing friends and the time spent with them. As mentioned above, you can pick the style of your party and pictures, but the photographer will make sure that you look wonderful on all of them.
Bachelorette party photo shoot prices
Bachelorette party photo shoot with decorations 150 EUR per hour,
Bachelorette party photo shoot with decorations 90 EUR 30 min,
Outdoor photo shoot for the first hour 150 EUR, each next hour 90 EUR,
Classic photo shoot 90 EUR per hour ( up to 5 people),
Mini photo shoot 30 min.- 90 EUR per hour ( up to 5 people).
Bachelorette party photo shoot gift card- this is a great gift before the wedding. It is an opportunity to prepetuate a fun party and positive emotions with friends.
The photo shoot gift card can also be purchase online>>>
Receiving photos
During the week, after the photo shoot, you will receive all photos electronically with basic photo editing. 1-hour photo shoot includes about 100 photos. The number of photos with photo retouching will depend on the duration and price of photo shoot.
Preparing for a bachelorette party photo shoot
Preparing for a bachelorette party photo shoot, it is important to remember about the good mood and about the idea and style of photo shoot. To create beautiful and creative photos, think about unified image of bachelorette party members. The photo studio has many different thematic decorations and attributes, that will help create a festive mood. You can also take your accessories and attributes for photo shoot- ballons, thematic party t-shirts etc. We also offer make-up and hairdressing services. We offer studio and outdoor photosessions.